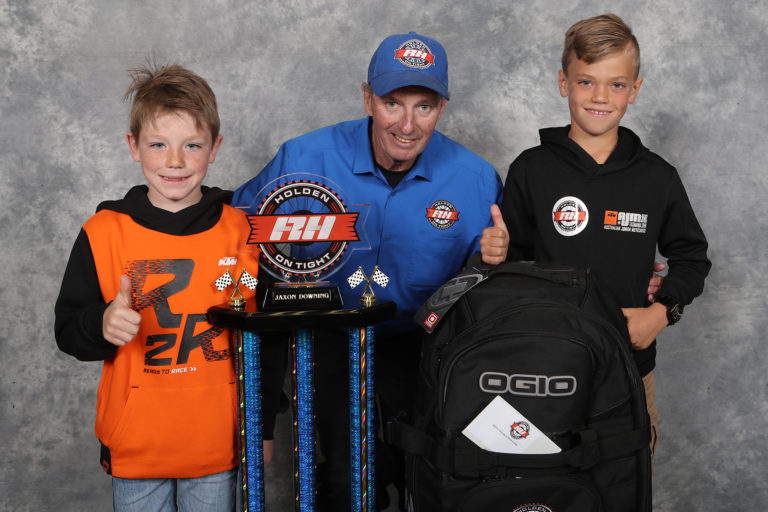 The Tasmanian Coastal MX Club was Host at the picturesque Sunny Penguin Motocross Track for 2018 AJMXC. In an unprecedented occasion the 2018 Holden On Tight Sportsman Spirit Award has been Won by two young 50cc competitors in Qld's Jaxon Downing and SA's Levi Rossi, who both win the $950 package being a $300 Spectacular Holden On Tight Sportsman Spirit Award Trophy and $450 Ogio Embroiled Gear Bag (thanks to Lusty Industries) and $200 prize money.
On Wednesday Jaxon rolled up to his gate and his young mate Levi rolled up alongside and thought it was his gate, they both look at each other without their parents around and decided to sort it out and after 6 rounds of Paper, Rock, Scissors, with Jaxon coming out on top, no trouble Levi casually went to the next available gate spot. "Priceless"
I've always been about supporting the kids and this sport, the 'Holden on Tight Australian Junior Sportsman Spirit Award' is designed to promote sportsmanship and humility within it. Those two young men have shown an example that many could follow, with everything in this modern era being centred on winning it's nice to have an award that goes beyond the scope of just winning awards on a points-based system," Holden explained.
It was also refreshing to hear of several other competitors who could easily fit under the Sportsman Spirit Award and special mention goes to the following, in the 50 cc class young Thailand Brian Gyles who selflessly picked another riders bike and gave back before he jumped back on his own, also in another selfless act Ryder Woodrow lending his bike to Jobe Dunn on the last day and was successful in finishing 2nd in the Championship, Harrison Reid for being constantly aware of his faster competitors and moving and giving clear room for them to come through. Finally, an amazing young lady and volunteer by the name of Brydie Hingston, who rode two classes, then came straight in jumped behind the canteen in all her gear and served and then if that wasn't enough she would go home and at night pack bags of Truffles for the Canteen to sell the next day.
It's an awesome sign our sport is in good shape, when we can see kids coming through with respect and a great credit to all their parents and clearly raised well with great values "quote Holden said."
On December 3/2016, Rosco Holden Founder of Holden On Tight Org. Horsham Motorcycle Club made a commitment to the sport and support the Australian Junior Titles for the next 5 Years, with prize $2300 money support of the 13 Classes, 1st $100,2nd $50, 3rd $25.
If any further information is required contact Rosco Holden rholden66@bigpond.com